We are a Catholic faith community carrying out the mission of Christ in the suburbs of Toowong and Auchenflower. We aim to be welcoming and inclusive, giving hope through practical, personal kindness and affirming each person's dignity, worth and destiny in Christ.
Our Safeguarding Commitment
'Safeguarding is everyone's responsibility'
The Archdiocese of Brisbane holds that children, young people and vulnerable adults are a gift from God with an intrinsic right to dignity of life, respect and security from physical and emotional harm.
They are to be treasured, nurtured and safeguarded by all.
St Ignatius Parish is committed to creating and nurturing environments where everyone, including children and adults at risk, are respected, where their voices are heard, and where they feel safe and are safe. Every person who shares in the work of our parish is responsible for promoting the inherent dignity of others and for upholding their right to be respected and nurtured in a safe environment.
Our parish, and the Archdiocese of Brisbane, uses the word "safeguarding" to refer to this commitment.
Take the next step in your faith journey
Sacraments are rituals that teach, strengthen and express faith. They are relevant to all areas and stages of life, and Catholics believe that the love and gifts of God are given through seven sacraments. 
The seven sacraments are Baptism, Confirmation, Eucharist, Penance, Anointing of the Sick, Marriage and Holy orders. They are divided into three categories: Sacraments of Initiation, Sacraments of Healing and Sacraments of Service.
Parish Advent Communal Rite of Reconciliation Saturday 16 December 5pm at St Ignatius & Tuesday
Read More »
St Vincent de Paul Toowong Conference will be selling Christmas Cards (packs of 5): $2 per
Read More »
Please remember the St Vincent de Paul Society's Toowong Conference at the "Giving Tree" during
Read More »
Colour Club
Sundays in Lent
Join Helen and Kerrigan at Colour Club at 9.30am - straight after mass at Holy Spirit On Sunday March 20, 27 and April 3. All children are welcome for activities that explore the meaning of Lent.
St Laurence's Old Boys Concert
Monday March 21 7pm
Join the old boys of St Laurence's as they sing and perform music both old and new. Donations contribute to Jesuit Mission in Myanmar
St Ignatius School Open Day
Tue 29 March at 9a
Thinking of enrolling at St Ignatius School? Join us for a look around our school by visiting the school website and registering with the QR code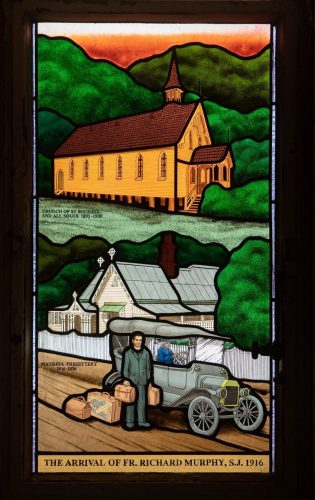 At the beginning of the twentieth century, Toowong was part of the Rosalie parish and local Catholics attended mass in the wooden church of St Michael and the Holy Souls in Holland Street.  
In 1916, the Archbishop of Brisbane invited the Province of the Society of Jesus (Jesuits) to open a parish in Toowong.  Over the following century, the Jesuits organized, built and formed the Catholic community of Toowong and Auchenflower.